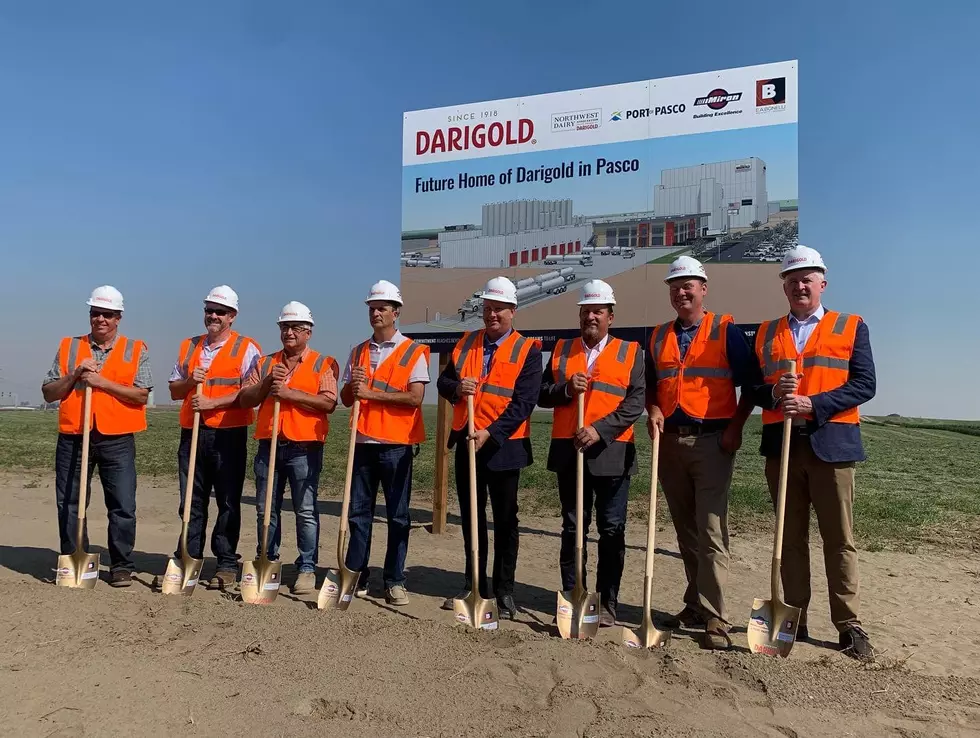 Darigold Breaks Ground On Pasco Facility
State, local and farm leaders were on hand Thursday, as Darigold officials broke ground on the company's $600 million facility north of Pasco, WA.  According to company officials, the state-of-the-art facility, slated to open in early 2024, will process approximately 8 million pounds of milk per day when fully operational from more than 100 dairy farms in surrounding communities.  Darigold CEO Joe Coote said this is the first of many investments into the Northwest's dairy industry.
"Those hundred family farms that will be supplying this facility, there's about an equivalent amount of investment that will be put into farm, as you would see here today for this massive facility.  In total, over $1 billion in investments, so our farmers are investing over $1 billion of their hard-earned capital into this region." 
Company officials said when fully operational, the plant will create 200 "well paying jobs" in the Tri-Cities area.  State Senator Mark Schoesler said this facility will have a big impact on a variety of sectors.
"Everything that's involved in the dairy industry, producing milk products, requires inputs from the rest of ag, from the trucking industry, ag businesses, they're all benefiting the entire region.  And that's why this location is so great.  This is a prime agricultural area benefiting from a great ag business partner, for the success of all."
The Pasco facility will be outfitted with two specialized milk dryers and two packaging lines for powdered milk products (or what the dairy industry calls "premium proteins"), two butter churns, two bulk butter packaging lines (for commercial and institutional customers), and five consumer butter packaging lines. When fully operational, company officials say the Pasco plant will have the capacity to produce roughly 175 million pounds of butter per year, and nearly 280 million pounds of powdered milk products annually, including products that meet the highest industry specifications for use in the most sensitive applications such as infant formula. 
"The growth of the dairy sector both domestically and internationally presents an opportunity for our dairy farmers," explained Allan Huttema, chairman of Darigold's board of directors and operator of Almar Dairy in Parma, ID. "Dairy farmers in the Pacific Northwest have a unique opportunity to benefit from global demand for dairy, which is rising considerably faster than it is domestically. This region is ideally suited to producing high-quality, nutritious dairy and our proximity to global shipping infrastructure makes it more efficient to access international markets." 
According to the USDA, demand for dairy grew at 1.6% in 2021 in the U.S., while demand for dairy exports rose by 19%.  Darigold officials add very few countries have excess production capacity, giving U.S. dairy producers a unique opportunity to benefit from growing global demand. 
If you have a story idea for the PNW Ag Network, call (509) 547-1618, or e-mail glenn.vaagen@townsquaremedia.com