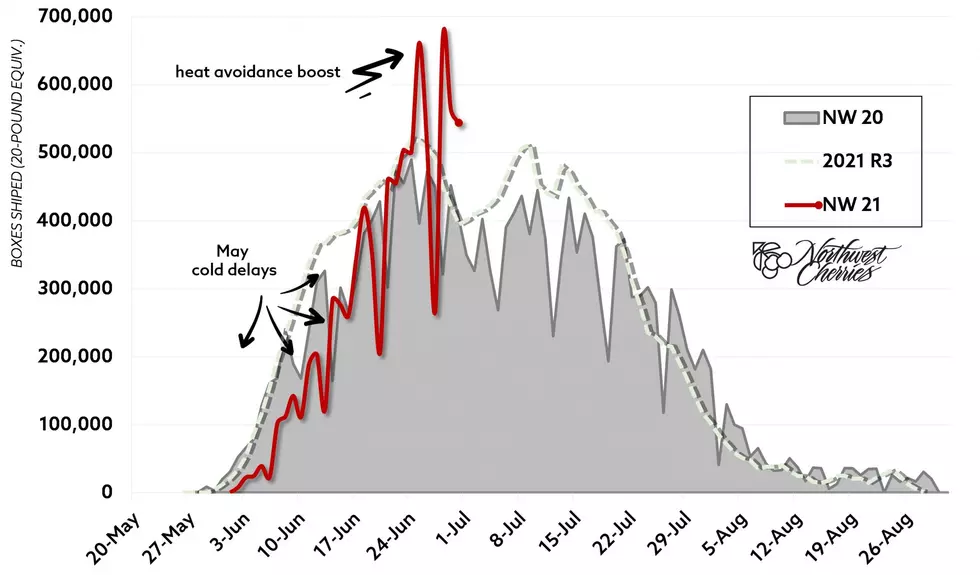 Over 11M Boxes Of Cherries Have Been Shipped
Despite a rollercoaster of a year, the cherry harvest continues to progress for Northwest growers.
As of Wednesday, 11,311,597 20-pound boxes have been shipped. According to Cherry Growers Northwest, the industry has shipped an average of 420,000 boxes per day for the past week to points around the world. The solid numbers are encouraging during a season that saw unseasonably cold temperatures to start the year and temperatures near 120 to end the month of June.
Industry officials added it's difficult to say at this point if the daily shipment curve will return to what was expected in the Round 3 projection released in May. But it is still expected that harvest will continue into early August, which means fresh cherries at your local store as kids start to think about returning to the classroom.
Cherry Growers Northwest added last week despite challenges in several export markets with COVID resurgences, the overall strength of the export demand continues to play a key role in our season.  Promotions are under way in our active markets, stretching from in-store demonstrations and signage to large-scale PR events.
If you have a story idea for the PNW Ag Network, call (509) 547-1618, or e-mail gvaagen@cherrycreekmedia.com