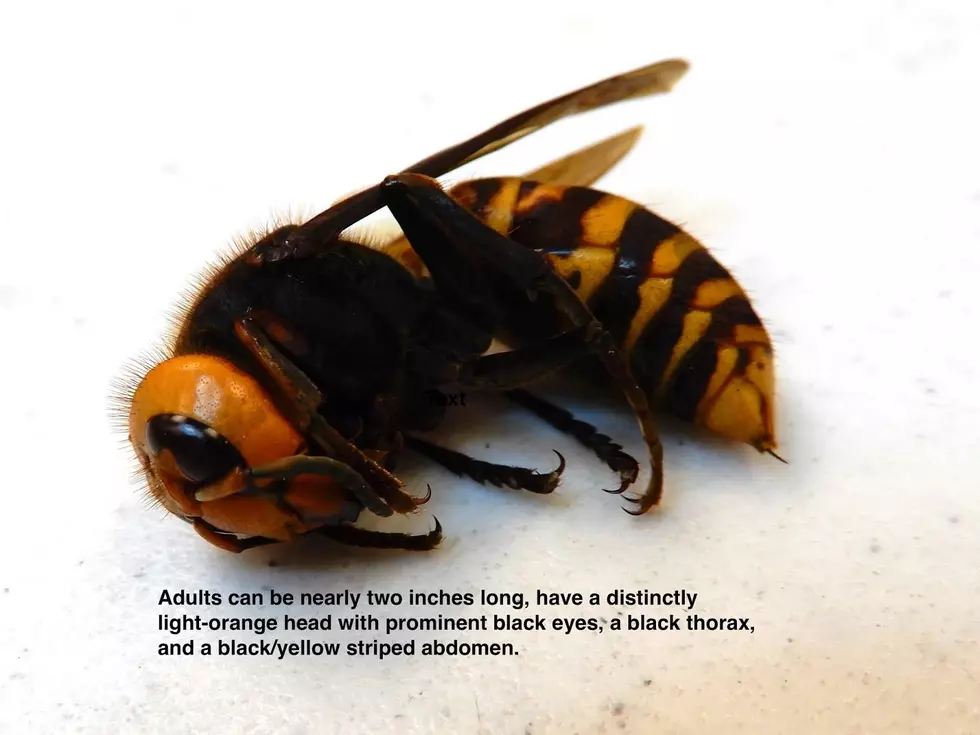 WSDA Asking For Help Locating Asian Giants
Officials with the Washington state Department of Agriculture said last week they are on the search for a nest of Asian Giant hornets. WSDA crews want to find any nests so they can be destroyed before anything happens to the local honey bee population. Evidence of six hornets was found outside of Blaine last week, nearly doubling the previous number discovered in Washington.
That, investigators say, indicates a nest has been established in northwest Washington or southeast British Columbia. WSDA reported late last week that for the first time they were able to trap one Asian Giant alive. In an effort to find the nest, the WSDA is asking anyone who comes across an Asian Giant to "Track, not Whack" and to allow the murder hornet to live, track it's movement and contact Ag officials as soon as possible.
Photo: WSDA
The Asian giant hornet, also known as the murder hornet, is the world's largest at two inches and can decimate entire hives of honeybees and deliver painful stings to humans. Farmers in the northwestern U.S. depend on those honey bees to pollinate many crops such as blueberries and raspberries.
The invasive insect found in China, Japan, Thailand, South Korea, Vietnam and other Asian countries was first documented in Washington state late last year. Officials have said it's not known how it arrived. Washington and the Canadian province of British Columbia are the only places the hornets have been found in North America. There have been reports from Asia of the hornets stinging people so often they have died.
Despite their name, the hornets kill at most a few dozen people a year in Asia, and experts say it is probably far less. Hornets, wasps and bees typically found in the United States kill an average of 62 people a year, the Centers for Disease Control and Prevention has said. Fifteen of the hornets have been found since they were first seen in the state in 2019, WSDA said.
To learn more, or to report the location of an Asian Giant, visit the WSDA's Website.
If you have a story idea for the PNW Ag Network, call (509) 547-1618, or e-mail gvaagen@cherrycreekmedia.com