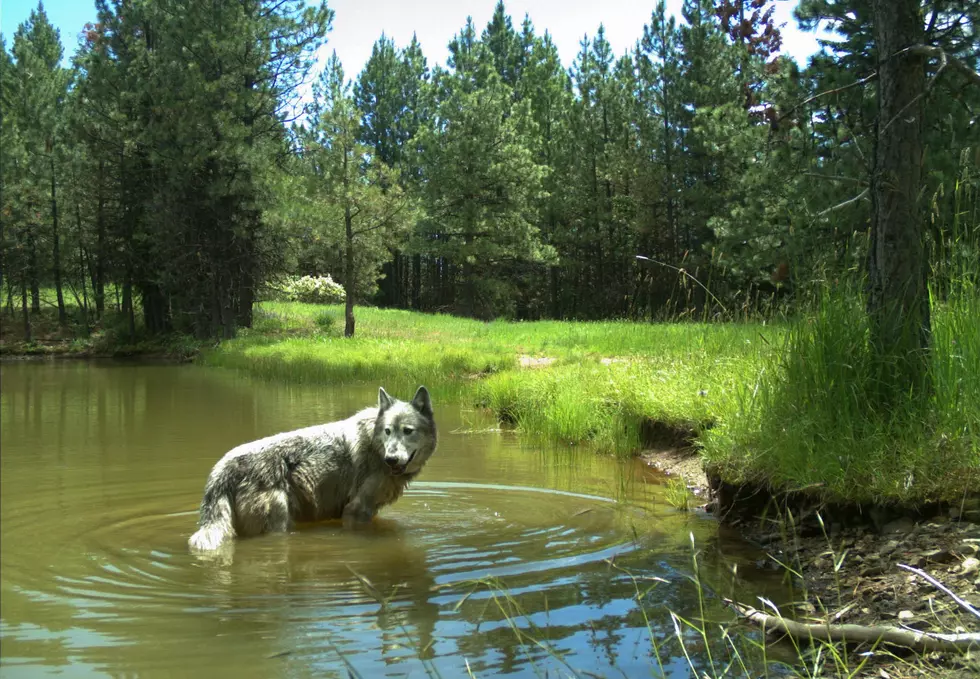 ODFW Crews Called To Three Depredations Over the Weekend
Photo: ODFW
It was a busy weekend for Oregon Department of Fish and Wildlife crew across the state.
It started Friday morning in Union County, near the Palmer Junction area, when a livestock owner found three dead goats on his 44-acre, private-land pasture about 300 yards from his house.  The goats ranged in size between 40 and 120 pounds. The carcasses of two goats were intact; one goat had entrails removed. The goats had died during the previous night.  There were ¼" to 3/8" wide bite punctures and tooth scrapes with up to 2 ½" deep pre-mortem hemorrhage and tissue trauma on all three goats.  Bite locations included neck and hindquarters. The locations and size of bite marks and depth of associated trauma is consistent with other confirmed wolf attacks on goats.
The depredation event is attributed to the Balloon Tree Pack.
Then on Sunday, a ranch manager found a 900 pound, injured, yearling heifer in an 1100-acre private forested pasture in the Five Points Creek area of Union County. The estimated time of the injuries were 12-24 hours prior to the investigation.  Tooth scrapes up to ¼" wide were found on both hind quarters above the hock to the tail, left flank, and behind both elbows varying in length from two to six inches. There were punctures in the hide on the rear of both hindquarters including a one-inch tear. The location and size of injuries are consistent with wolf attacks on cattle.
This depredation is attributed to the Five Points Pack.
Then later on Sunday a livestock producer found a dead, approximately 950 lb., yearling steer in a large private-land grass pasture near the Fort Klamath area. Portions of the hindquarters and neck had been consumed with the remaining tissues intact. It is estimated that the steer died 36-48 hours prior to the investigation.  Multiple pre-mortem tooth scrapes were observed up to three inches long and 1/8" wide around the left shoulder. Areas of pre-mortem hemorrhage and soft tissue trauma were observed near both elbows and the neck. The pre-mortem bite scrapes and tissue trauma are clear signs of a predator attack. The injuries are consistent with injuries on other cattle attacked by wolves in this area.
This depredation is attributed to the Rogue Pack.
ODFW crews have responded to confirmed six depredations this month.
If you have a story idea for the PNW Ag Network, call (509) 547-1618, or e-mail glenn.vaagen@townsquaremedia.com